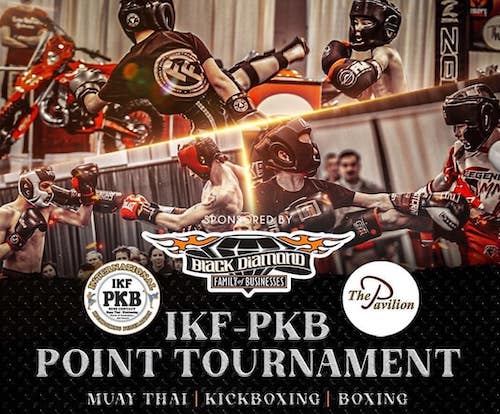 IKF-PKB Muay Thai, Kickboxing and Boxing Point Tournament
The International Kickboxing Federation presents The IKF-PKB Marion IL Point tournament! After having successful events in Marion in 2022, we return to Marion with 4 events in 2023 at The Pavilion Event Center, sponsored by the Black Diamond Family Of Businesses!
This tournament is open to competitors of all experience levels. Competitors can choose to compete in Muay Thai, Kickboxing, or Boxing. This is a semi-contact, no knockouts allowed tournament sanctioned by the "IKF" and fully insured, the focus is to gain valuable experience, as well as grow and spread awareness of the sport of Muay Thai, Kickboxing, and Boxing. Competitors need to register at
www.ikfmidwest.com
, pre-registration is $60, and if you register at the event it's $70. So save and register NOW! Day of Registration 10 am. Rules meeting and matching at 11 am. Spectators 12 noon.
This tournament is open to the public at noon, tickets are only $20 at the gate. Food, drinks, Dj provided music and various vendors will also be on location for your viewing pleasure. Come out and enjoy the action in a family-friendly event and help grow combat sports in your area.