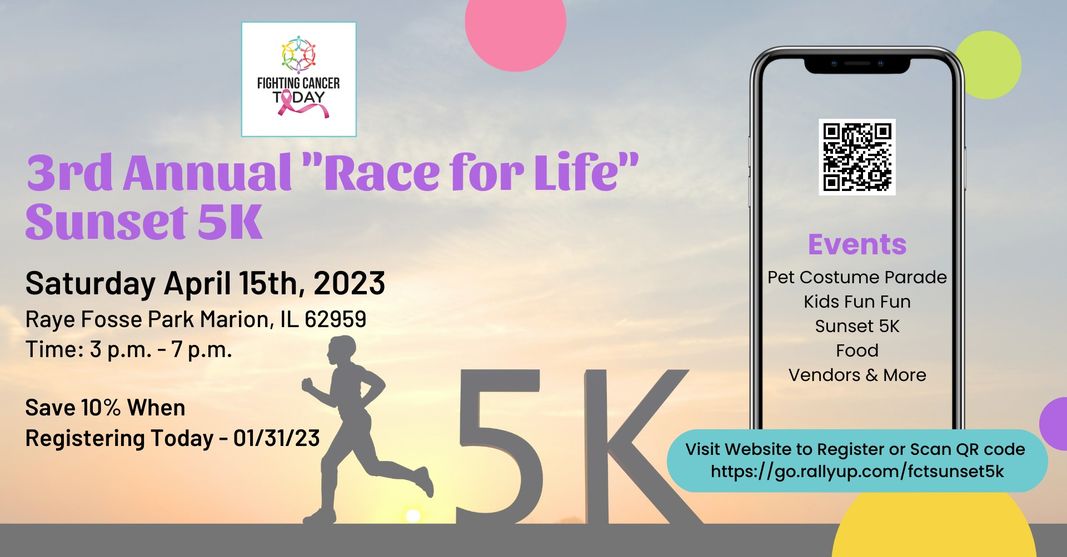 Fighting Cancer Today's "Race for Life" Sunset 5k
Pet Costume Parade, Kids Fun Run, Sunset 5K, Food Trucks, Vendors, and more all at one event. We promise you don't want to miss our 3rd Annual 5K, so get your teams together and come race with us at this year's "Race for Life" 5K.
We have so many things in store as we join together to show our support to those in our community who are battling cancer. This event has been held for the last three years and serves as a way to race for those who are physically unable to race because of the effects of cancer.
100% of the proceeds will benefit Marion, Illinois-based 501(c)3 nonprofit Fighting Cancer Today, which provides support to adults, children, and their families from their initial cancer diagnosis through recovery.
Get your teams together because we are racing to make a difference.
Shirt Orders & Swag Bags
To be guaranteed a 2023-5K t-shirt and swag bag, registration must be completed by April 1st, 2023.
Divisions:
10 & Under
11-16
17-24
25-35
36-46
47-57
58-68
69-79
80 & Over
Costume Parade, Fun Run, and 5K Run/Walk Awards & Prizes
Top costume from Pet Parade
Top male and female overall
Top male and female in the division
Top male or female for beating last year's best 5K time of 18:44.0
The team or participant raising the most money