2023 Resolution: Support Local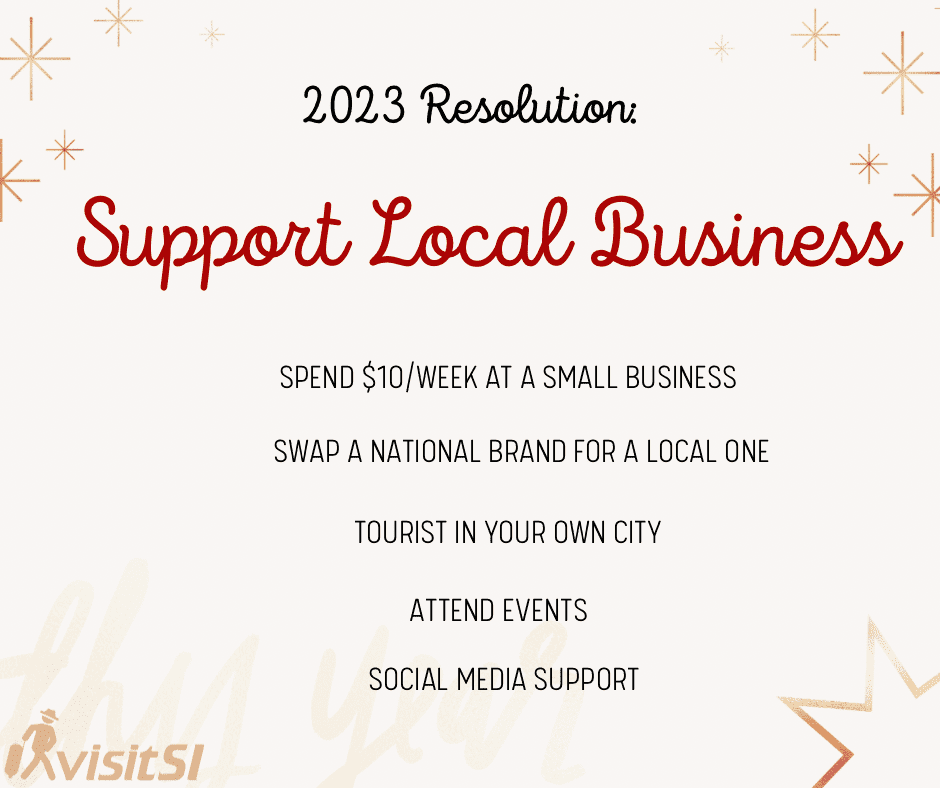 As we approach the beginning of a new year, resolutions are being made.
Some vow to improve their health, cut out bad habits, or take up a hobby.
But, what about the resolution to increase your support of local businesses in 2023?
---
Ways to Support
1. Spend $10 Locally, Weekly
Challenge to spend as little as $10 per week at a small, local business instead of a large corporation. This can be as easy as swapping just one morning coffee run from Dunkin or Starbucks to the neighborhood cafe. Instead of going to a chain fast food place, consider ordering pickup from a locally-owned restaurant; many now utilize delivery apps to make ordering easy and fast. Need just a few items for a recipe, craft, gift etc.? Stop in or shop online at a hobby shop, boutique, or general store instead of one of the big names.
2. Swap a National Brand for a Local One
It's easy to have brand loyalty for the big names behind products we use daily. In 2023, challenge yourself to swap just ONE daily-use brand name item with something similar that has been made or sold by a local company. This can include beauty products, clothing, services, and food. Example: try purchasing dry noodles, spices, produce, meat, baked goods, or milk from a local grocer. Louie's P&R, Small's Meat Market, Thorton's Sausage Company, Big Muddy Hogs, and Curd's General Store are all excellent shops to find these items.
3. Become a Tourist in Your Own City, Buy the Shirt
Too often, we fall into routines of frequenting the same places, ordering the same dishes from our favorite restaurants. We forget that new things are added all the time, that our community is growing and changing. Try viewing Williamson County through the eyes of someone who has never been here before. If you were visiting, what attractions seem appealing? Plan a "day trip" of checking out spots you have never been in our region. The visitsi.com website is a perfect resource to discover new-to-you places. And if you really enjoy a place – buy their shirt or merchandise! By simply wearing a t-shirt, you are helping market that location to everyone you encounter.
4. Attend Events
A great way to support local businesses are to attend their events! Concerts, holiday open houses, market days, musicals, cook-offs, firework displays, festivals, and seminars are just some of the events our region offers throughout the year. You may even discover new vendors. Community events are a great way to feel connected to your community, meet new people, and try new things. Check our calendar weekly for events that interest you. Don't forget to take pictures and share them!
5. Social Media Support
Want to support local businesses, but are short on time or money? You can still help! Follow local businesses on social media platforms, and share their posts. It's that simple! Tagging locations and usernames in your posts or stories helps link the content back to the business. Promoting sales, events, or even just offering a good review can bring in new customers, and expand their marketing reach.